Konnichiwa and welcome back to Anime-mas on the Alfredeo Blog. I'm finally caught up on the reviews and now we're back on track, back on schedule. If you still do not know what this is about, I've been reviewing an anime for the past 7 days and doing so until New Years Day 2017. Here are the previous anime I've reviewed, all on one page for your convenience: https://alfredeoblog.wordpress.com/category/alfredeos-anime-mas-2016/
Today's asian cartoon is The IDOLM@STER, made by A-1 Pictures, who also made Sword Art Online, Fairy Tail and Working!!. This anime is based on the video game of the same name for Playstation Portable, Xbox 360 and arcades.
But first, let me give you some context before I talk about the show.
In Japan, there is a "occupation" if you want to call it that, called "idols", which basically mean that they are talented young people, teenage singers, models, etc., who are supposed to be role models for other young people. The equivalent of this in America would be I guess something like iCarly or Ariana Grande or some shit, something the kids want to look up to.
This show focuses on a small talent agency called 765 Productions, who hires idols and helps them get jobs to do stuff like concerts, special events, interviews, modeling and that sort of stuff.
At the beginning, some cameraman documented a day in the life of being an idol for 765 Pro, then after became the studio's producer. The guy's name is unknown but they all call him Producer-san (meaning Mr. Producer).
The show is formatted so every girl, or idol, gets an episode to be the main focus. I really wish I could talk about each idol in depth but I am fucking tired so I'll give you a short description of each one.
Amami Haruka – a determined girl who is full of energy and overall so god damn nice
Kisaragi Chihaya – very passionate about singing and nothing else, has a dark past experience which they cover in 2 episodes
Takatsuki Yayoi – the youngest out of the twelve; energetic, optimistic, hardworking for family
Miura Azusa – oldest idol out of the twelve; sweet, caring, acts like an older sister, bad with directions to somewhere
Kikuchi Makoto – a tomboy who every girl adores, but secretly wants to be treated like a princess instead
Shijou Takane – a girl who people see as a princess; can eat a ton and not get fat apparently
Minase Iori – a spoiled rich girl, seems like a kind girl but while talking to Producer and other girls, she does not fuck around
Hagiwara Yukiho – timid girl who is deathly afraid of dogs and especially men; wanted to be an idol to try to get rid of that fear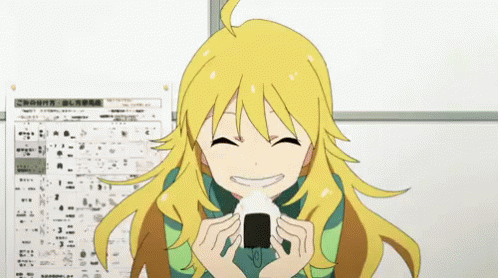 Hoshii Miki – beautiful on the outside, lazy as hell on the inside
Futami Ami and Mami – i cannot tell them apart to be honest but they are twins that cannot be separated, that's how close they are; playful and teases other idols
Lastly, Ganaha Hibiki – a Okinawan native, has a lot of unusual pets like a crocodile, flying squirrel, a pig and others; very energetic
You can also count Akizuki Ritsuko as one of the idols but she usually does not perform, instead she does the business, planning and shit
In each arc, there is a conflict that happens, and then you know, gets resolved so it gives us an interesting story to watch. Also, each girl gets to sing a song which are pretty damn good so here are my two favorites:
In conclusion, it's a fun show with drama. If they made a second season, I would definitely watch it. So yeah, if drama, comedy and music is what you're looking for, give this one a try.
MyAnimeList Page: https://myanimelist.net/anime/10278/The_iDOLMSTER