Makoto Shinkai, the man behind the recent, insanely popular anime movie that is called Kimi no Na wa, or in English, Your Name. I was told that before I watch that movie, I should watch Shinkai's other two popular films, this one, 5 Centimeters Per Second and Garden of Words to apparently enjoy Kimi no Na wa better.
Released in 2007, this is a romance drama about a boy named Takaki Toono and his close relationship with a childhood friend, Akari Shinohara. These two individuals unfortunately had to part ways due to Akari's parents having to move to another region for work related reasons. This made them both in distraught, but they still kept in touch via email.

With the news that Takaki is also moving away, he decides that he wants to see Akari again as they could possibly never see each other in the future.
As the years go by and both individuals go through their teen years and start of adulthood, Takaki and Akari find that their relationship starts to drift apart. Even with Takaki's relationships with other girls, he still has strong feelings for Akari and hopes that the two will meet again.
---
This has an eight on MyAnimeList and to be honest, I would have to disagree with that rating. Yes, this movie's visuals is very, very beautiful. I will definitely agree with that.
But there are some pretty big flaws in this movie. For one, the characters. Especially Takaki, I felt he was pretty boring to watch and the character development wasn't present. Also, Akari wasn't shown that much and we saw little to no scenes of her living her life while Takaki was living his. I just wanted to see how Akari's experiences with growing up and not seeing Takaki anymore be different than the main character's. Would it be better than Takaki's or go downhill for her?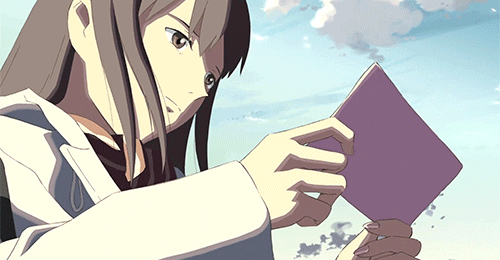 Lastly, the story is only decent. While this interesting concept of "two star-crossed lovers trying their hardest to reunite but unfortunately don't" is uncommon to me, Shinkai made this watching experience a little confusing. I felt it went too fast at some parts such as, I think, in the last episode of the movie with Takaki's ex-girlfriend, like that wasn't explained pretty much at all. I had questions like, "who is this person?" and "how did their relationship crumble?", like please, give us some more information! While I am not very happy about the end of this movie, it still gives us a good message that moving on in life sometimes is the best thing to do.
You know, I came in expecting a pretty good romance flick and while I enjoyed this film, it's not god-tier like a lot of people say. This movie was only an hour long so if they widened the length, slowed down and added more content, then yes, I would probably like this movie a lot more. But, they just didn't and it's a bit of a disappointment.
I'm not sure if I'll be putting out a review on Garden of Words before I review Your Name but I'll determine that later. Hope you enjoy this little post!
MyAnimeList Page: https://myanimelist.net/anime/1689/Byousoku_5_Centimeter