(spoiler-free, i did my best)
Makoto Shinkai is at it again. Adding to his previous popular and very good films, 5 Centimeters Per Second and The Garden of Words, which you can see my reviews on those two by clicking the links, this is a review on the recent romance drama called Your Name. or in Japanese, Kimi no Na wa, that became the highest grossing film in Japan in 2016 (source), passing films from the great Hayao Miyazaki such as Spirited Away and Howl's Moving Castle.
To be extremely honest here, I cannot make my own synopsis about this movie because I'll seriously end up spoiling this movie (and because I'm like that lol) so here is the overview of Your Name, provided by MyAnimeList:
Mitsuha Miyamizu, a high school girl, yearns to live the life of a boy in the bustling city of Tokyo—a dream that stands in stark contrast to her present life in the countryside. Meanwhile in the city, Taki Tachibana lives a busy life as a high school student while juggling his part-time job and hopes for a future in architecture.

One day, Mitsuha awakens in a room that is not her own and suddenly finds herself living the dream life in Tokyo—but in Taki's body! Elsewhere, Taki finds himself living Mitsuha's life in the humble countryside. In pursuit of an answer to this strange phenomenon, they begin to search for one another.

Kimi no Na wa. revolves around Mitsuha and Taki's actions, which begin to have a dramatic impact on each other's lives, weaving them into a fabric held together by fate and circumstance.
---
I really enjoyed this film.
After watching The Garden of Words, I asked myself, "how would Makoto Shinkai amaze me even more with Your Name.?" Well, I went to a local theater that was showing this movie and I found out for myself.
The story of Your Name is something that I've seen before, but towards the end, it became a new idea. The concept of suddenly switching bodies with a random person, the struggles of keeping him/her from not messing up relationships or personal life matters and then using that power to prevent a dire situation, it definitely got my attention throughout the whole film and it didn't really bore me. With the funny scenes such as Taki acting more feminine and Mitsuha acting more masculine due to the switch, and how the people around them find it extremely weird; and the dramatic, emotional climax and falling action; all of it just kept me watching.
Also to add, while this movie is classified as a romance, I felt the romantic element of this movie wasn't expressed a lot, it was shown more towards the end. Similar to The Garden of Words, both films focus a lot more on the rising action and conflict, then the love and feelings between the main characters come in.
I can relate this movie to an anime called Kokoro Connect, a supernatural romance about a group of people in a high school who mysteriously began swapping bodies with each other. I personally haven't finished this show so I'm not sure how similar these two are other than them swappin' bodies.
The art and visuals are amazing as always. As I said, Shinkai did it again. He picked out another amazing art director. This time, it's Masashi Ando, a person who previously worked at Studio Ghibli. Yep, the studio of the legendary Hayao Miyazaki who created influential animated films such as Princess Mononoke and Spirited Away. It was a great choice to pick him to do the visuals in this movie. In fact, this movie pretty much reminded me of a Ghibli film, mostly with how the characters appear.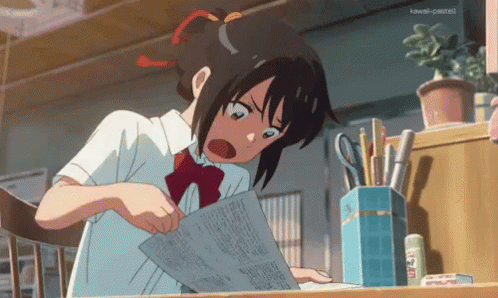 While I don't think it's as impressive as the art in The Garden of Words, it still was fantastic to look at. The city skyline, the view of the countryside, the beautiful night sky with the colorful comet and the bodies of water looked great. Not only the art but the quality of animation is outstanding as well.
I love the characters. While Taki and Mitsuha being their normal selves wasn't all that interesting, once they get sucked in this switching bodies thing, the way they handle the situation, the change of feelings towards each other and the chemistry that they create even though they have never met in person, was very good. Not only the main characters but the supporting roles such as Mitsuha's friends, Tessie and Sayaka, were entertaining and added to the story very well, with them helping out their good friend even if what she's rambling about is crazy talk.
The music score in this film, beautiful. The soundtrack and feature songs were composed by the Japanese rock band, RADWIMPS. To be honest, I would have to re-watch the movie and pay more attention to the background music, but just by looking at the various fan made anime music videos and really, just listening to it, you can hear that this band did a great job pairing up music with different scenes. Whether it was a more sad, gloomy piano composition or an energetic rock song, I enjoyed hearing all of them.
In conclusion and to answer the question in the post title, yes, I believe that this film was worth the hype. While I won't go on and say that this movie is a 10/10 because some parts of the story were confusing to me and could've been more detailed, it's a great romance drama flick with a little bit of everything added together extremely well, with many different emotions going through my mind throughout the movie like happiness, confusion and sadness. I highly suggest you watch this film if you enjoyed Makoto Shinkai's other movies and even if you don't like/watch anime, it's still a great animated film to experience.
MyAnimeList Page: https://myanimelist.net/anime/32281/Kimi_no_Na_wa
---
Hi and I really hope you enjoyed my review on this movie. I tried my best to not spoil anything as I wanted you to experience it on your own which is the best way to really enjoy this film. I didn't really address the themes and all that behind the story and art so if this is the first time you're reading a review from me, just know that you shouldn't expect an amazing analysis to be present or anything along those lines because I guess I don't notice and go in-depth about those things at first and that's the way I make my reviews. Hope you understand and at least thought this was interesting! I appreciate you taking the time to read this.
-al