Let me just say a few things before we get into this:
I don't have a review or Currently Watching post for you today and I wanted to do a fun post, so here we are.
This post may contain spoilers from the series and even the movie, so I suggest you should watch those first or read at your own risk.
PLEASE do not take this list seriously. This is suppose to be a fun and random list and if your favorite song isn't on this list or not my number one choice, just remember this is an opinion post. You can go ahead and put in the comments your list because I would love to see the great, different songs people enjoy in the Love Live series.
Numbering these 1-15 was extremely difficult and it breaks my heart that I had to leave out some great songs so yeah. Don't think I do not like the rest of Love Live's tracks because I enjoy most of them.
Most of these songs are from their live performances because most of the videos with the studio recordings being very edited due to avoiding copyright. Even though they are live, I feel like it's still extremely good.
These songs are from the original series, School Idol Project, not Sunshine!!. I will eventually make a list of my favorite Aqours songs, don't worry.
If you would like to see my top 10 favorite songs from the anime, K-ON!, please click here!
Let's begin.
---
15. Bokutachi wa Hitotsu no Hikari (Movie Ending)
(unfortunately, if you haven't seen the LL movie, just skip this one because it's spoilers, I apologize.)
When I first finished the movie, I thought this song was only aight. But, after listening to it for a few times after, I realized, "damn this is actually really good for the last performance". I could even tell when watching the live performance, the video above, it was really emotional for the voice actors, I mean, can you blame them? All the hard work they did to make this great series, all comes down to this one final song. Other than that, it's really nice to listen to and may even make you shed some tears if you experience this anime.
---
14. Angelic Angel (Movie Insert Song)
Very chillax song. It's not too energetic, it's not too slow. Uhm, yeah. It's just really nice to listen to. lol
---
13. Garasu no Hanazono
If you are a NozoEli shipper, then this song will blow your mind. It's a nice song to listen to and I find it cool that the duo had a song but the funny thing about it is the lyrics:
A secret romance
Though I want to feel you
I'm still just looking at you painfully
My feelings won't let me stay a girl who's in love with love
WHAAAAAAAAAAAAAAAT OH MY GOD. Coming from these two characters, this "one true pair" some people say, is basically canon now lol.
---
12. Sore wa Bokutachi no Kiseki (Season 2 Opening)
Very, very good opening. The first season opening didn't really click with me but once I heard second season's, I really liked this one. It could be Honoka's voice, the music or something else, but this is nice.
---
11. Susume→Tomorrow
Sung in the first episode of the first season. When I first watched this show, I immediately liked this song. This trio of Honoka, Kotori and Umi just do a great job singing as a group.
---
10. Blue~Berry Train
Kotori's solo song. MY GOODNESS. Even though she doesn't have the most beautiful voice when she sings songs, this song is just filled with kawaiiness and that makes it reel in the fans. This is a perfect song for her because she is so nice.
---
9. Yuujou no Change
Genuinely a good song. A fun, upbeat song that is perfect for the group to sing. I don't know but when I first heard this song, I really liked it. The last part where they all sing "la la la la", wow, that is powerful man.
---
8. Donna Toki mo Zutto (Season 2 Ending)
I really liked this ending more than first season's. Something about it being the last song you see when you finish an episode, it's just a bit sad because it's the end. I don't know but it's a great song overall. And yes, that is my video of me playing that song on the rhythm game, osu!. So if you liked that, maybe go check out my second channel to see more osu videos.
---
7. Korekara no Someday
Another fun and upbeat song by this group. To sum it up, it's really nice to listen to and keeps you up on your feet.
---
6. Snow halation
"WHOA WHOA WHOA THERE! SNOW HALATION IS NOT YOUR FIRST CHOICE? HOW DARE YOU NOT AT LEAST PUT THIS AT THE TOP 3!" is what I assume some people are saying.
Yes, while I will definitely say Snow Halation is a beautiful song, it's not my favorite. This song basically influenced me to even watch Love Live because it being very popular, this was the first song I saw and heard from this series. So, while I appreciate it helping me watch this anime, after listening to many more songs from µ's, I believe this isn't the best one.
---
5. Nawa Tobi
If you were to ask me who is my favorite character in this series, I would hands down say Hanayo. She is just so nice, sometimes funny and really likable. I can see why people won't say that she's their favorite because I guess she can sometimes be boring, she didn't have much dialogue in the anime and her voice isn't that great but I really like her. This song though, man. This is the perfect song for Hanayo because it reflects her personality and mentality, the very smooth, mellow, calm music and the lyrics:
You reached out to me when I gave up
I loved the warmth of your gentle hand

I'm overflowing with "thank you"s for you
Little by little I'm getting closer to my dream
I'm overflowing with "thank you"s for you…
Thank you
I'm so happy, so happy, so beyond happy,
That I'm crying… sorry
The fact that this song is apparently dedicated to her best friend, Rin, it just makes you happy and it's a real tearjerker.
---
4. Hello, Hoshi o Kazoete (Movie Insert Song)
(i guarantee you that this video will be taken down soon so if the video isn't present here, just go look it up on youtube, there should be another one)
This song proved to me that Rin is actually really good at singing. The first-years song from the movie is definitely my favorite one out of all the songs in the film because it's just like, nice to listen to. It has a oldie song style to it and it keeps you on your feet, or I guess very energetic I guess.
---
3. soldier game
It looks like the Lord was in a giving spirit because they had the decency to create a song with three specific characters who have the greatest voices out of all nine of the group (at least I think that). Umi, Maki and Eli. Let that sink in for a bit.
It's a great song and when I first watched this show, I seriously wanted to hear a song from these three. Basically, their voices really are great together and the music is nice.
---
2. START:DASH!!
Whether it was Maki's solo version, in the second years' first performance or with the whole group singing it, this is an amazing song. Something about how they sing it such as the different tones in the different verses and their voices collaborating, it's just a great song to listen to. When I first heard it, I immediately fell in love with this track, especially when Maki was singing it solo. So yeah. Good song, for the third time in one paragraph lol
---
1. Aishiteru Banzai
Yep. This is my favorite song from this group. When Maki was in the music room, singing and playing this in the piano for the first time in the anime, holy jesus, I got chills it was so good. It's not that energetic, it's not too slow like in some µ's songs. It's a heart-warming song, just by hearing it, and when they sang it later in the show, I fucking almost burst into tears because it was just inputted at the right time in the anime. I love this song.
---
So, that was a fun list to make. Hopefully "it was a nice song to listen to" and "it's a good song" didn't make you click out of this review but at least the songs definitely won't make you bored. I really miss the original series and while we have a new group, Aqours, in Love Live! Sunshine!!, nothing can really come close to what this particular group created… is what I believe. If you have a different list of favorite songs than me or you have other thoughts, please, please leave it down in the comments below. I would really enjoy reading your favorite songs from this show. Thanks!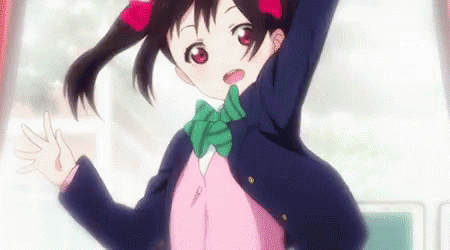 -al