Hi there and today, I didn't feel like watching any new shows and I am kind of bored at this moment so we are going to do a #WaybackWednesday review!!! yay. I don't know if me reviewing old shows that I've watched will be a thing on this blog but it's fun to do anyways.
---
Going by an alternative title, Wagnaria!! and created by A-1 Pictures who also brought you Fairy Tail, ERASED, Sword Art Online, AnoHana, I could seriously keep going on with this studio.
This anime is about how one day, a regular guy named Souta Takanashi was approached by this childlike yet she's a teenage girl, Popura Taneshima, to ask him if he would be willing to work at her restaurant. Due to Souta's love of small, cute things, he cannot turn down Popura's request.
He then starts working at Wagnaria, a local family restaurant and meets his… interesting employees. Kyouko Shirafuji, the manager of the establishment but even though she has that big of a position, she's lazy as hell and basically can eat everything in the kitchen. Yachiyo Todoroki, an extremely nice and polite waitress. What? There's nothing wrong with that. Except she carries an intimidating katana. Jun Satou, the head chef and while he looks scary, he's actually pretty cool. Hiroomi Souma, the weirdo assistant chef who likes to see people fail or suffer. Aoi Yamada, the apparently homeless troublemaker. AND FINALLY, best girl, Mahiru Inami who has a big fear of men and tends to punch any man in vicinity.
To sum it up, this anime shows the daily happenings at the family restaurant, how everyone with their weird personalities interact with each other and maybe even some romantic relationships starting to sprout.
---
It's as simple as it gets, it's an entertaining slice-of-life comedy.
If you were to ask me what my favorite genres of anime are, I would definitely say slice-of-life, comedy and romance (all of them combined in one show would also be great). I like the other cool genres such as fantasy and action but the energetic, dumb, comedic aspect of anime just makes me like those kinds of shows more.
It being a comedy anime, it definitely has some funny running gags and jokes. For example, Inami has a really big fear of men and even goes far to even sock them in the stomach or face, really hard. Even though Souta is her co-worker and seems really friendly, nope, he needs to be knocked out. But, her feelings start to change for him… Romantically? What will Inami do in order to not possibly kill her crush? Just that conflict, and many others, made the show enjoyable.
The characters are great. They all have their weird traits and behaviors. I mean don't you find it a little weird and even funny that an innocent looking young woman always wields a katana? Or that the manager of a restaurant who should be more caring about her establishment just sits around and eats parfait after parfait?  Also, why am I questioning this anime so much lol.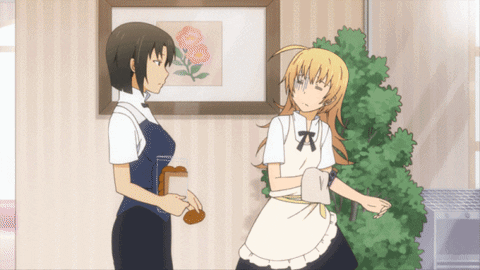 The songs, especially the openings, are definitely very slice-of-lifey and random. The both seasons openings are very catchy and one of my favorites.
In conclusion, while it's not the best slice-of-life comedy anime out there, it's one of the more enjoyable ones. The funny characters, the pretty interesting connections between them, the shenanigans that occur and… it's random and funny pretty much. So, if you like slice-of-life, comedy and shows about people working different occupations (which there are a lot of those), you should definitely at least give this one a peek.
i mean doesn't that just give you a chuckle?
MyAnimeList Page: https://myanimelist.net/anime/6956/Working