uh.. the picture was totally not suppose to be clickbait
Cliches are something that is used in entertainment a lot. So, with Japanese anime, there's no way they wouldn't have it. While we do question it a lot, we just deal with it anyways.
---
5. Big Breasted Women
this wouldn't be a cliche list without these babies… uh, sorry. To me, it's really not necessary but that's how the Japanese likes em. Also, they prefer to make it look like they're about to fucking rip the article of clothing on them, like jesus christ just cover them up
---
4. Where the Hell Are the Parents?
This might be a bit misleading at first but I'm talking about how the characters HAVE parents but they are never really seen during the anime. There is another cliche where the main characters DO NOT have parents at all and that's not what I'm talking about.
I guess this could mainly apply to slice-of-life shows (or more i don't know) but whenever the main characters are talking to their parents, especially the fathers, they are barely or never even seen. They are most likely not at home due to working late or something along the lines of that because of the notes they leave for their kids. Like are they that irrelevant? What if I want to see how much they resemble their kids or how their relationship is?
---
3. Nosebleeds That Seem Lethal
Mainly used whenever a character is turned on or aroused by the sight/thought of something. There are different levels of the bleeding, from a small dripping to a fucking watering hose. Uhm… how are they like still conscious?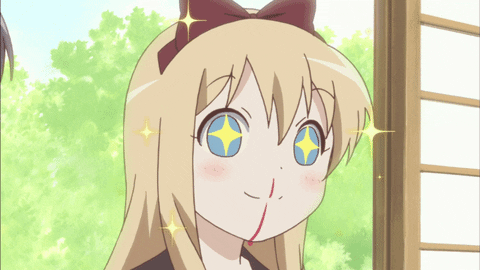 ---
2. MC Sitting Next to the Window in Class
Ay, if you sit next to the window, usually towards the back, you are going to experience a lot of shit for 24 episodes.
---
1. Slice of Bread in Mouth While Running Late
Best fucking cliche in anime. You can have it with jelly, butter or even plain but if you gotta eat, you gotta run as well.
---
Pretty sure none of these happen in real life but what the fuck am I saying, this is anime.
If you have any other funny/stupid cliches you have seen in anime, definitely leave it in the comments section below! Thanks for reading this weird list.
-al