Welcome back to the 30 Day Anime Challenge on the Alfredeo Blog! If you're new, I am answering each topic in the picture above for the duration of one month. So, today is Day 4, which means I'll be talking about my favorite female character in anime. Also, it would be nice to read about your favorite character, just don't make any rude statements about mine, because I definitely won't about yours. Thanks!
---
I won't lie, I have seen a lot of anime with pretty much all female characters. That's not a bad thing, it's just that I feel like I watch too much of the CGDCT (cute girls doing cute things) genre. So, the character that I have picked is definitely in that category.
If you do not know about the anime, K-ON! (2009), it's considered one of the most popular and influential anime in the slice of life genre. It shows the daily funny and entertaining shenanigans of five girls who are in the light music club at their school, where they create and perform songs as a band. You can see my review on both the anime, the feature film and even my favorite songs from that series by clicking the respective links.
You might be wondering which girl from that show is my favorite character of all time. Well, it is going to have to be…
The silly, outgoing, and sometimes lazy main guitarist of Houkago Tea Time – Yui Hirasawa.
Right from the start of the show, you can see how she is. Yui is positive and even though it's the first day of high school, a brand new experience for a lot of people, she doesn't feel an ounce of anxiety.
When she joins the light music club, she had no clue what that meant, she was just reeled in because of the sweets from Mugi, also with Ritsu and Mio convincing her so much. But, when she actually has to play the guitar without any knowledge on how to, the other members start to regret recruiting her.
Yui then makes up for that with her great amount of focus on doing one objective at a time, with her learning how to play the guitar. I think that's one of the reasons why I really like her, the fact that she can do something if she's really focused on it even though she looks extremely lazy.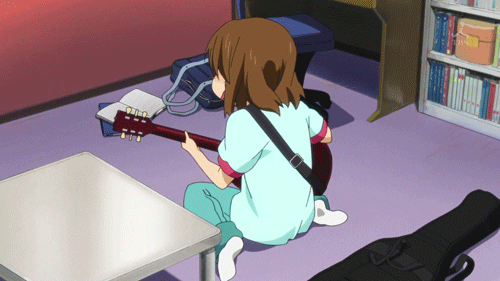 On the same topic of Yui playing the guitar, throughout the show, her practicing and actually performing, she is definitely passionate on playing in a band. This is expressed very well when at their performances, she tells the audience all, and I mean all, the stories on the struggles and happy moments on her time with HTT.
The traits of Yui Hirasawa are definitely on the positive side. She is cheerful, hilarious to watch and as I said, passionate. But if we see the other side, she is usually lazy, depending on her amazing sister to care for her, and isn't very smart, looking at her grades.
But probably the reason why I really like her is that she can be a really great friend. Yui can cheer her friends up when they feel sad, she can make friends easily, she can help you play guitar and she can definitely create amazing songs about her friends like "U&I", a song about her sister and "Tenshi ni Fureta yo!" for the band's underclassman, Azusa.
In conclusion, Yui is a great character to watch in an anime of that kind of genre. Ever since I first watched K-On!, Yui has been my favorite member from that band/show and she is for a great reason.
MyAnimeList Page: https://myanimelist.net/anime/5680/K-On
---
I hope you enjoyed today's topic! Come back tomorrow to see which anime I really was ashamed of enjoying.
-al