Let me get this straight: I don't watch this show. My friend was watching this week's episode and with the limited knowledge of this show, I decided to see if this show is, in fact dumb, for myself.
---
Eromanga-sensei (2017) is, apparently, a romantic comedy drama made by A-1 Pictures who also created popular shows like Sword Art Online, Your Lie in April, Fairy Tail and many, many other anime. This show is in fact currently airing for the Spring 2017 anime season.
I don't feel like summarizing the show so here's the synopsis from MyAnimeList:
The "new sibling romantic comedy" revolves around Masamune Izumi, a light novel author in high school. Masamune's little sister is Sagiri, a shut-in girl who hasn't left her room for an entire year. She even forces her brother to make and bring her meals when she stomps the floor. Masamune wants his sister to leave her room, because the two of them are each other's only family.

Masamune's novel illustrator, pen name "Eromanga," draws extremely perverted drawings, and is very reliable. Masamune had never met his illustrator, and figured he was just a disgusting, perverted otaku. However, the truth is revealed… that his "Eromanga-sensei" is his own younger sister! To add to the chaos that erupts between the siblings, a beautiful, female, best-selling shoujo manga creator becomes their rival!
---
As I said, I watched one episode, this week's, and from what I saw, this show is pretty fucking bad and disturbing.
**im gonna spoil the whole episode, beware**
At the beginning, we see Masamune just straight up ask Sagiri to draw a lewd little sister for his light novel/manga. You know at that point I just wanted to jump off a bridge.
She hesitates at first but after some praising from Masamune, Sagiri just went with it.
We then see another girl, I think her name is Elf something, apparently her bosses/organization is hunting her down since she isn't actually working when she's suppose to be.
She then asks if she could meet "Eromanga-sensei" which is actually Sagiri with a pen name. Sagiri acts her part and they both meet via Skype or some video chat. Elf then wants to challenge Eromanga to a game, and Masamune being sent out to get them snacks while they play.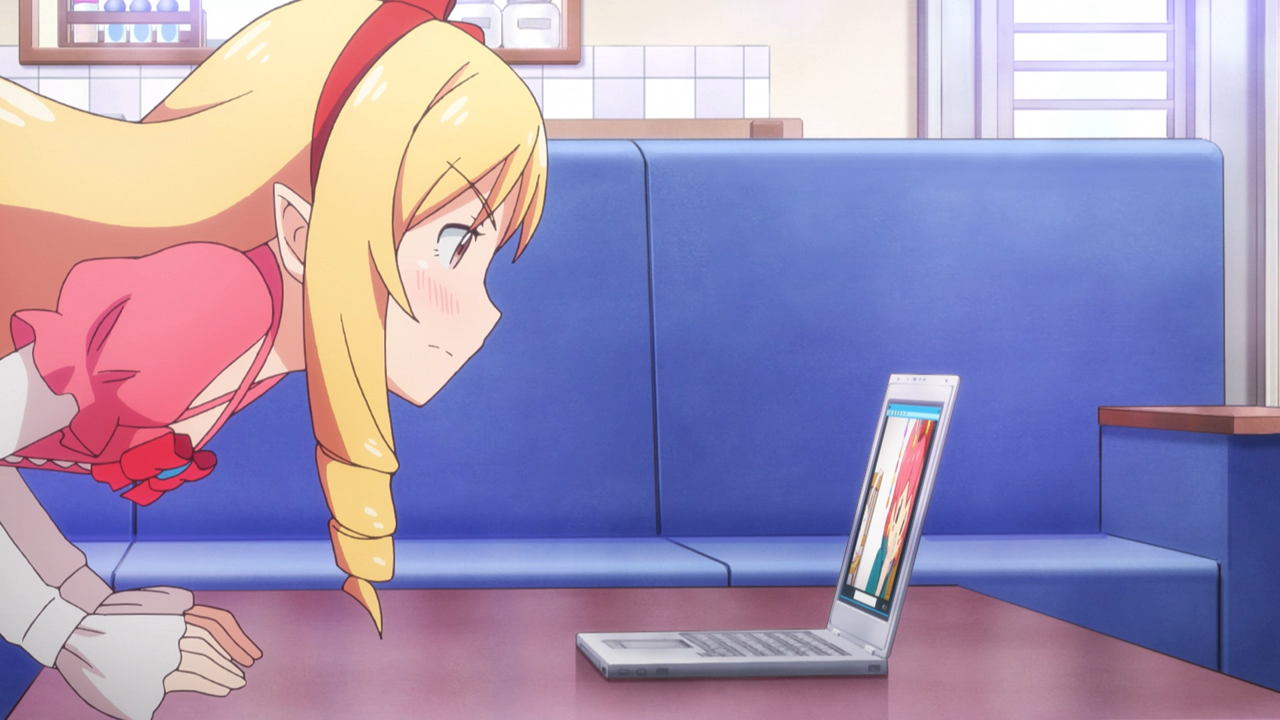 Masamune comes back from shopping to walk into Elf lifting up her skirt to show Eromanga her underwear, for Eromanga to draw them, since she lost the game or some stupid shit like that.
After that, Sagiri has an issue with her creativity. After drawing Elf and her panties, it seems that she can't stop drawing lolis basically. Unless Sagiri sees another thing that interests her and she can draw, little girls will be her standard.
Masamune gets a call from Megumi (the girl who likes to say that she enjoys male genitalia) and she finds out that Sagiri has finally made a friend. She gets jealous that she wasn't Sagiri's first friend but then Megumi asks Masamune to plan a way to get the two girls to bond with each other.
Masamune then goes to a bookstore to find something for Sagiri's "light bulbs to start flashing". We see the bookstore employee, Tomoe, which I thought was the lord and savior, purest girl in this show but no, her breasts just had to be low key bouncing up and down.
Megumi meets Masamune in the bookstore to talk about ways to become friend with Sagiri. In order to do so, Megumi asks him if she could read his "creepy otaku novels" to relate with Sagiri.
---
God this show is unbearably bad.
Just from watching one episode, I will not ask for another go at this. With the unnecessary sideboob and butt shots, the fact this these girls are probably 12-14 years old and the perverted guy who normally just asks if his sister can draw a sexualized little girl, I just really can't watch this.
Also, I don't want to possibly offend someone but relationships between family members, blood-related or not and incestual or not, it just does not click with me. Some people actually enjoy those or are even in a relationship with their brother, sister, mother, father, uncle or whatever but nah. But what puts in the final nail in the coffin for me, is that this main female character is in middle school while the main male character in high school. Significant age gap relationships also isn't for me.
I guess I can see why people actually like this because of the kawaiiness of the girls and the okay comedy but the bad factors just are overthrowing the good ones for me.
But, in the end, we all have our different opinions. If you are going to try and defend this show, while I probably will disagree with you, I'll still respect your opinion on this show.
At least the opening is good.
MyAnimeList Page: https://myanimelist.net/anime/32901/Eromanga-sensei