"3D girls are way too much trouble." – Tomoya Aki
Welcome to another addition to my segment on the Alfredeo Blog called Currently Watching where I talk about an anime that I am, like in the title, currently watching, my thoughts on it and if it's worth continuing. I have many of these on different shows like Haibane Renmei and One Punch Man so check those out!
---
Today's show that I will be talking about is Saekano: How to Raise a Boring Girlfriend, a romantic comedy harem made by A-1 Pictures who also created very popular shows like Fairy Tail, Sword Art Online, Your Lie in April, ERASED and many, many other anime.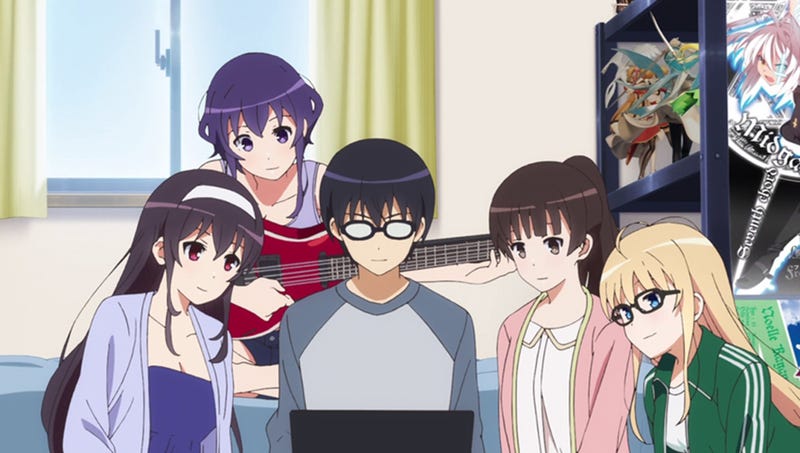 ---
Here's some backstory: after listening to Tengen Toppa Gurren Lagann's opening, "Sorario Days" on YouTube, I noticed a video in the recommended section where one of the characters, Michiru Hyoudou, sang that song in this show. And holy shit, Michiru's voice and how she sang this awesome song made me want to watch this show.
Anyways, let me tell you the story of this show:
An otaku named Tomoya Aki who has experienced many stories from anime and light novels he's been collecting, now wants to make the ultimate dating simulation to share his experiences with other people.
But, in order to do so, he can't do it alone. He asks his childhood friend, Eriri Spencer Sawamura and writer Utaha Kasumigaoka for their help, which at first they don't believe that he can successfully do this but join him anyway. Tomoya also meets Megumi Katou, the inspiration for this dating simulation and who the main female character of the dating sim is based off.
Taken from the synopsis on MyAnimeList: "Using what knowledge he has, Tomoya creates a new doujin circle with hopes to touch the hearts of those who play their game. What he does not realize, is that to invoke these emotions, the creators have had to experience the same feelings in their own lives."
---
I haven't gotten too far into this show but so far, it has been interesting.
The story is pretty decent for a harem anime. We still have the one guy and many girls that he could possibly start a romantic relationship with, but it adds the personality adn mentality of Tomoya, being a huge otaku, and how all the girls have to deal with his unusual doings.
The characters in this show are pretty interesting. We have our main guy, Tomoya, whose personality and goals are shown very clearly and quickly. Then, we have the different female characters. Eriri, the popular and beautiful blonde-haired girl who acts way differently around Tomoya; Utaha, the intimidating one, she has a Senjougahara from Bakemonogatari feel to her; and finally, Kato Megumi, the purest one out of all of them. The chemistry between Tomoya and these girls starts off a little rocky but eventually they have great relationships. It's also pretty interesting to see the beef between Eriri and Utaha.
I will definitely say that the art in this show looks really good. I don't know, I think it's the quality of this art and animation that really separates this from other slice-of-life or romance anime.
In conclusion, I will definitely keep watching this show. Since I heard that there is some sort of "waifu war" in the fanbase, I need to see for myself who the best girl is haha. In seriousness, it has entertained me in only two to three episodes so I don't expect this show to disappoint.
---
On another note, if you want to see a better review on this show than this one, please check out Shokamoka from Shokamoka's Blog of Wonders and their great review where they go in-depth in every element of this anime. Check it out here!
MyAnimeList Page: https://myanimelist.net/anime/23277/Saenai_Heroine_no_Sodatekata
(you're going to have to deal with a nightcore version of the opening, sorry about that)