Hello, I hope you had or are going to have a great day today, and I sure as hell had one, since I knocked out all my finals for the year. Only 15 or so more days until I get to watch an anime a day for a whole month.
Welcome back to the 30 Days of µ's Challenge on the Alfredeo Blog! This is where I have been discussing the different Love Live! related topics from the list above and giving you, hopefully, interesting thoughts to think about and even respond to.
Speaking of responding to this post, if you are going to do so, please do it in a respectful manner since I would rather not want a comments section with a bunch of insults.
---
I remember it was Mid-Winter break, towards the end of February, and with all this free time I had on my hands and after I kept listening to probably the most popular Love Live! song, "Snow halation", I decided to just go for it and watch this very popular anime. And what happened after, well, you see now.
After almost four months since watching the original series and the spin-off, Love Live! Sunshine!!, I've been listening to µ's and Aqours almost everyday, playing the mobile game, and I even got some merchandise like a poster and a figurine. Now that I look at it, I'm making myself sound like a freak but trust me, there's worse.
In seriousness, I love this series a lot. I've watched other idol based anime, but this particular show has to take the cake for that genre and even is one of the best in the musical genre of anime all together. Now, now, please remember that this is opinion based, so try not to insult me and my thoughts if that's the way you feel.
Anyways, today's topic is my favorite episode from season one of School Idol Project and picking one is definitely not as hard as picking my favorite seiyuu.
Episode 9, "Wonder Zone", released on March 3rd, 2013 and featuring the insert song of the same name with Kotori Minami (Aya Uchida) as the center.
**spoiler alert**
After the faculty of Otonokizaka High saw the success of the open day (a day where middle school students get to see if they would want to enroll at that high school), when µ's performed "Korekara no Someday" for the crowd and after Eli and Nozomi finally joins the group at the end of episode 8, the series kicks off with all nine members now.
Otonokizaka's prinicpal, Principal Minami (that's Kotori's mother!) reconsidered shutting the school down, making µ's look to their ultimate goal now, qualify and win the competition of Love Live!.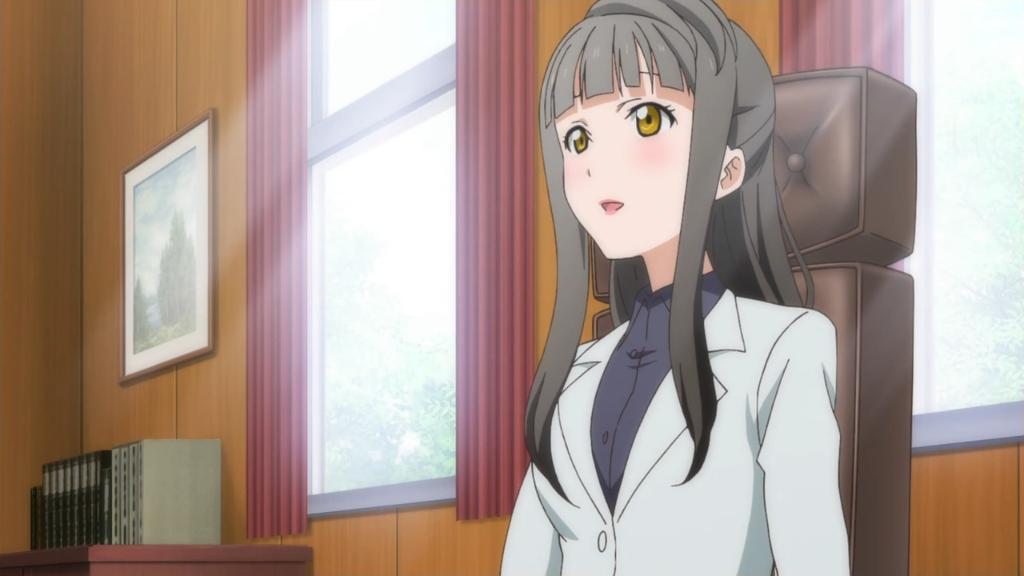 After finding out that they are ranked 50th place for the competition, they head to Akibahara, only to find out that they already have merchandise of them on sale!
This makes their minds explode and while gazing at their own faces on plush figures and buttons, they hear a particular voice, wearing a way different looking outfit than usual…
After chasing her down, the rest of the group finds out that Kotori secretly works at a maid cafe, she wanted to do it to boost her confidence, and is actually a really popular "celebrity" in Akiba, nicknamed "The Legendary Maid Minalinsky".
After all this, Eli decided that they'll have their next performance in the heart of Akibahara, even though that that area is the turf/territory of their rivals, A-RISE.
But, what about the song? Eli asks Kotori to write a song about Akiba culture, since Kotori seems to have experienced the most of that area.
This makes Kotori stressed out and is unable to come up with anything. She tried her best but had a hard time. Here's one of her failed ideas:
Honoka and Umi decides to help Kotori out by working at her maid cafe for a day, hopefully getting some ideas into Kotori's head to write a song for.
And you know what, it did help Kotori and she successfully made an extremely good song, "Wonder Zone" with all of them dressing up as maids and performing in Akibahara.
---
So, this is my favorite episode for a lot of reasons:
We got to see the friendship of Kotori, Umi and Honoka really well and how amazing they are together. Honoka towards the end of the episode said to Kotori, "I want to be with you and Umi-chan forever and ever!". Isn't that just nice?
We finally got to see the chemistry and how everything will run from now on, now that Eli and Nozomi officially joined µ's. Eli is a great leader, judging by how she organized the Akibahara performance, so ya know, I'm glad that she joined.
Kotori is one of my favorite members from µ's and her getting an episode focused around her was great to see. When they found out that Kotori was a popular maid in a popular area of Japan, I actually didn't expect that to happen/be revealed. It was a decent conflict with her trying to keep her side job a secret and trying her best to write lyrics.
We were blessed with a great song, "Wonder Zone".
Lastly, I won't tell you what happened at the end but that really had a big part in future episodes and the future of µ's as a group, so if you're curious, go watch it!
---
Thanks for reading today's topic! The trio of Honoka, Umi and Kotori has to be my favorite one out of all three.
What's your favorite season 1 episode? Leave it in the comments below!
Come back to see my favorite season 2 episode, this time.
-al