I'll admit that I did not catch up with a lot of shows this past Spring anime season. Many reasons were sheer laziness, the 30 Day Anime Challenges I did, school and other reasons that I'm pretty sure you don't want to hear. It was basically my fault but I hope to come back to some of the shows that I started and possibly finish them, because I think they are worth watching.
Looking towards the future, I'll be picking out and telling you what I'll be watching in the Summer 2017 season, and there seems to be a lot of good shows next season.
This post was influenced by some posts I saw while browsing the WordPress Reader, one of them was a fellow anime blogger, Chris from Peach's Almanac. They made their own list on what they'll be watching so you should check out their anticipated shows as well! You can see it here. Thanks for inspiring me to make my own post about the next season!
Let's get started, shall we?
(this list is very long and detailed so just warning you now)
---
New Game! 2
Studio(s): Doga Kobo (Himouto Umaru-chan, Gekkan Shoujo Nozaki-kun, YuruYuri)
Genre(s): Slice of Life, Comedy
Here is the synopsis of season 1, courtesy of MyAnimeList:
Since childhood, Aoba Suzukaze has loved the Fairies Story game series, particularly the character designs. So when she graduates from high school, it is no surprise that she applies to work at Eagle Jump, the company responsible for making her favorite video game. On her first day, she is excited to learn that she will be working on a new installment to the series: Fairies Story 3—and even more so under Kou Yagami, the lead character designer.

In their department are people who share the same passion for games. There is Yun Iijima, whose specialty is designing monsters; the shy Hifumi Takimoto, who prefers to communicate through instant messaging; Hajime Shinoda, an animation team member with an impressive figurine collection; Rin Tooyama, the orderly art director; Shizuku Hazuki, the game director who brings her cat to work; and Umiko Ahagon, the short-tempered head programmer.

New Game! follows Aoba and the others on their adventure through the ups and downs of game making, from making the perfect character design to fixing all the errors that will inevitably accumulate in the process.
Thoughts:
If you watched the first season of New Game!, it's pretty much going to be the same thing. And that's not a bad thing. This anime was really fun and entertaining to watch, and seeing Aoba and the crew again have their interesting adventures together, it will probably be on the same level of enjoyment I had for first season. If you haven't watched this anime and you like slice-of-life, working-type of shows and the CGDCT (cute girls doing cute things) genre, this show would be great for you.
---
Koi to Uso (transl: Love and Lies)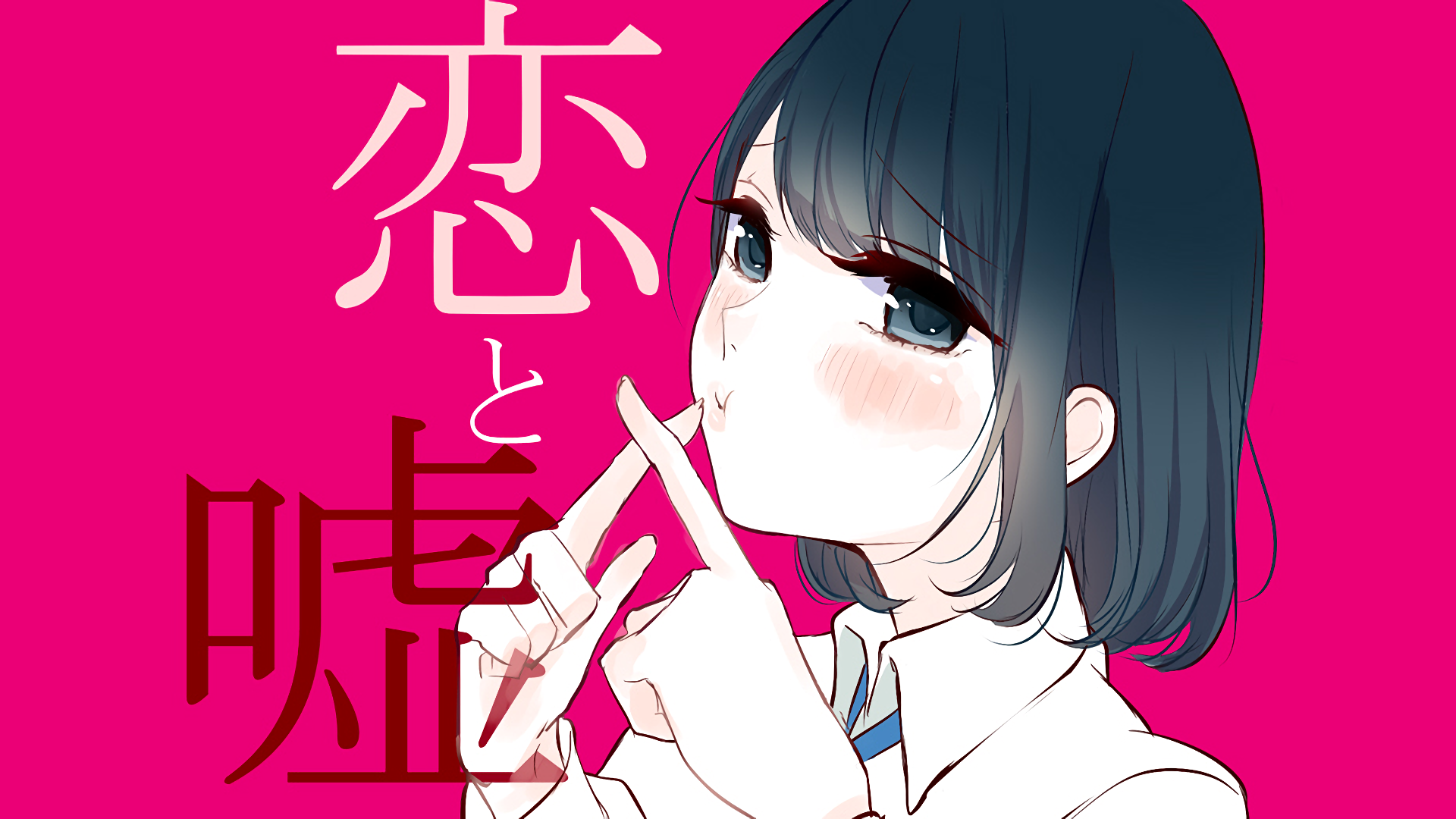 Studio(s): LIDENFILMS (Akashic Records of Bastard Magic Instructor, Arslan Senki)
Genre(s): Drama, Romance, School
Synopsis:
Lies are forbidden and love is doubly forbidden. In the near future, when young people in Japan turn sixteen, they are assigned a marriage partner by the government. People don't have to go through the trouble of looking for someone, and everyone accepts that the country will find a compatible partner to make them happy. Yukari Nejima is fifteen years old. He lives in a small corner of the country, and just can't seem to get ahead in life. Both academically and athletically he's below average. But within him, he hides a heart burning with passion! In this world in which love is forbidden, what will happen to him when he falls in love?
Thoughts:
Okay, alright, sounds actually, pretty damn interesting. Adapted from a manga made by Musawo Tsumugi in 2014, it has a storyline that I definitely have seen before. Someone else, in this case, the government, automatically assigning a lover partner to you when you turn sixteen. Sounds nice, I actually never seen it in an anime, so this could be fun. The synopsis is pretty bland and didn't give much detail to fully understand what I'm going to go into, but this preview kind of helped me.
Other than that, it looks decent. The character design is something that I haven't seen before and hopefully that won't be a factor of not liking this show.
---
Ballroom e Youkoso (transl: Welcome to the Ballroom)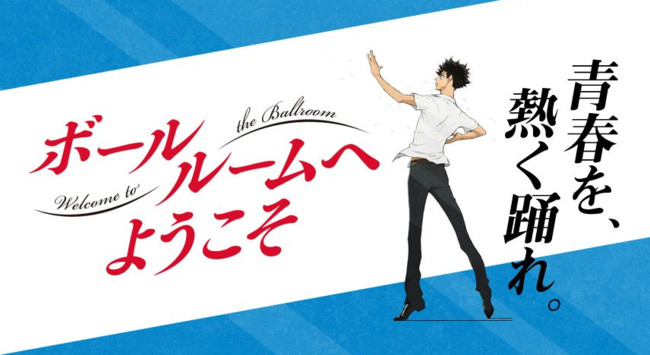 Studio(s): Production I.G. (Psycho-Pass, Haikyuu!, Kimi ni Todoke)
Genre(s): Comedy, Sports, Drama, Romance, School, Shounen
Synopsis:
A professional dancer named Sengoku rescues Tatara, an introverted third-year middle school student who is being harassed by delinquents. Tatara ends up at Sengoku's dance studio where he meets Shizuku Hanaoka, a schoolmate he comes to secretly idolize. From this defining moment when Tatara enters the world of dance. Sengoku is a free-spirited, dynamic international dancer who recognizes Tatara's potential and begins to coach him. Through dance, Tatara meets another schoolmate, a dance prodigy named Kiyoharu. Through these new friendships, Tatara develops a passionate desire to improve as a dancer and be accepted by his peers and rivals, which nurtures his own native talent. And through interaction with Tatara, other dance members are encouraged to take steps to overcome their own challenges and issues.
Thoughts:
Honestly, I had mixed feelings about this one when I first saw it. At first, I thought to myself, "alright, ballroom dancing, it doesn't really sound appealing to me". But, when I actually read the synopsis, it doesn't sound bad. A person who is introduced to dance, gets coached and has potential to be successful. Throughout the story, the MC will make friends and with the help of the MC, they will jump over the obstacles in their life.
It almost sounds like a Clannad concept, which I don't mind, where the MC basically helps each side character in their struggles. I might be completely wrong, but that's how I see it right now.
Looking at the preview, the art is something I definitely haven't seen before. It looks alright, the character design is a bit weird but I think I'll get over it. The animation looks okay, but it's a dance-based show so I won't bash on it too much. I mean, look at Kemono Friends.
---
Gamers!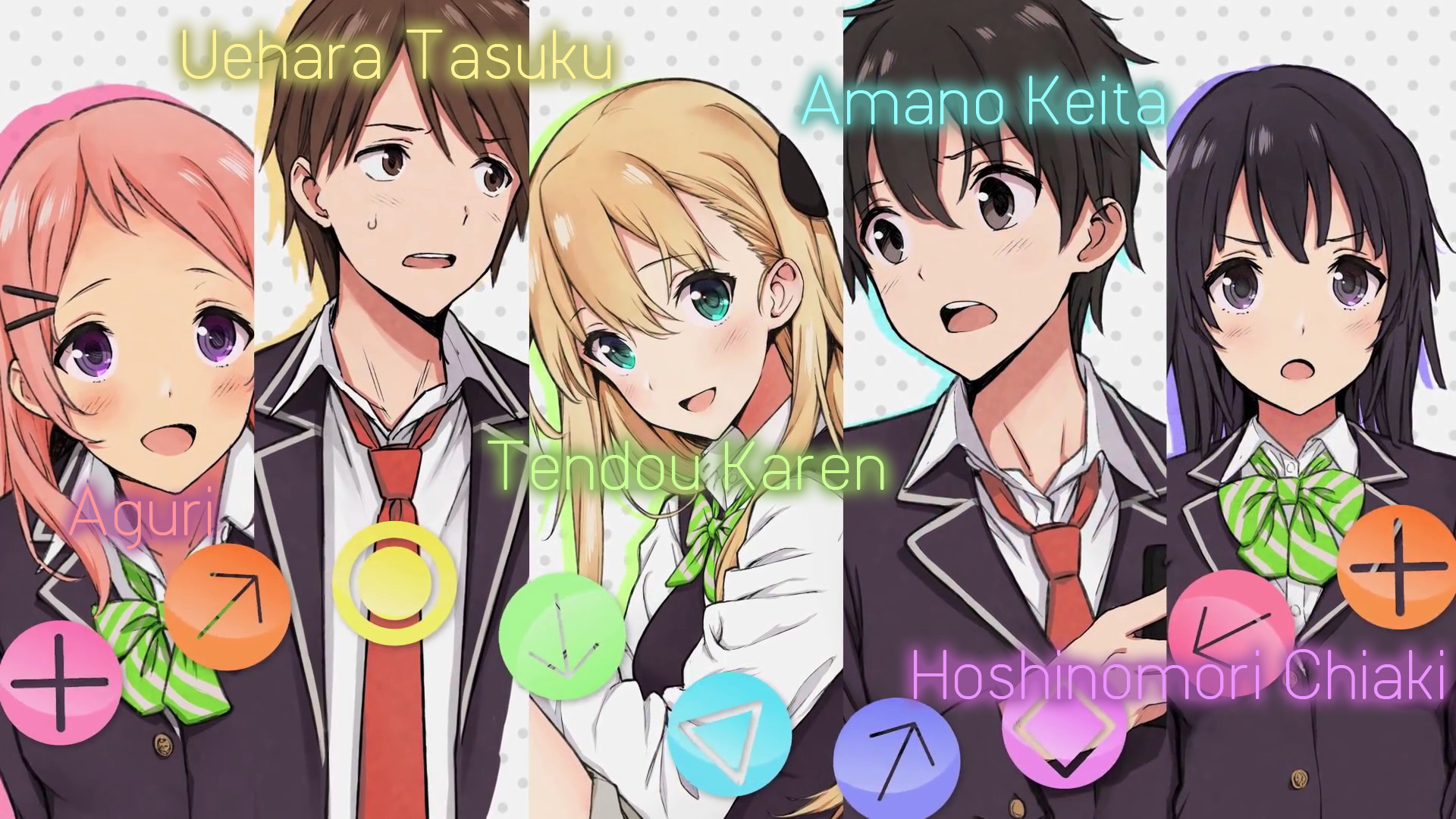 Studio(s): Pine Jam (Tawawa on Monday, Mahou Shoujo Nante Mou Ii Desukara.)
Genre(s): Comedy, Romance, School
Synopsis:
This is a story that revolves around certain students and one hobby. Amano Keita is our lonely protagonist who has a passion for gaming and is friends with Uehara Tasuku, who is secretly a fellow gamer and is someone who believes his life is perfect. We also have Karen Tendou, the club president of the video games club and Chiaki Hoshinomori, who constantly bickers with Keita. This is a story filled with a non-stop sequence of comedy scenes and misunderstandings. Our chaotic romantic comedy now begins!
Thoughts:
I like video games… and I like romance comedies. I think this one will be a good one.
I'm pretty sure I've seen something like this before, a group of people start some sort of company/club based around a hobby and they actually create something. Throughout the story, this group also has love connections with each other. It sounds actually not bad and I will gladly give this one a shot.
Unfortunately, I don't think there is a preview yet, but the art looks pretty good. I like it.
---
Isekai wa Smartphone to Tomo ni. (transl: In a Different World with a Smartphone.)
Studio(s): Production Reed (Nijiro Days, Gravitation, Sousei no Aquarion)
Genre(s): Adventure, Harem, Comedy, Romance, Fantasy
Synopsis:
Touya Mochizuki was accidentally killed, and as an apology, God allows him to be reborn in a fantasy world and will grant him any one wish he desires. And so, Touya chooses to keep his smartphone in the next world. In his second chance at life, he befriends many important figures and comes across the world's secret. He inherits the legacy of an ancient civilization and travels around nonchalantly while possessing powers that rival this world's kings.
Thoughts:
Oh, this sounds like it's extremely similar to KonoSuba, which I'm kind of leaning towards both sides, good and bad.
On one hand, it could be as funny or even funnier than KonoSuba, it's a harem anime so it might be interesting with the romance aspect. But on the other hand, it might be a complete rip-off of KonoSuba. That might be a stupid reason on why I already dislike this show but I fear that it'll just be KonoSuba but not as good.
Art looks pretty good, in my opinion and the music definitely has a medieval RPG type of soundtrack. Overall, it has potential for me.
---
Tsurezure Children
Studio(s): Studio Gokumi (Kono Naka ni Hitori, Imouto ga Iru!, Kiniro Mosaic, A-Channel)
Genre(s): Comedy, Romance, School, Shounen
Synopsis:
A series depicting various scenarios of young love. These stories range from a boy, crippled by his absolute lack of confidence in himself, cannot even accept the fact that the girl of his dreams actually asked him out on a date, to the near-psychotic girl that pours her own blood into her homemade chocolate in order to win his heart.
Thoughts:
I keep thinking it's called "TSUNDERE Children" lol
This sounds like this'll be a fun show to watch. I read a little bit of the manga, and it's fairly amusing and funny to read the weird and sometimes awkward relationships between a bunch of people.
After watching the preview, it seems like it's going to have first time love, embarrassment and some nice moments will occur such as the umbrella scene.
Art and music is pretty good, as well.
---
Youkoso Jitsuryoku Shijou Shugi no Kyoushitsu e
Studio(s): Lerche (Assassination Classroom, Monster Musume: Everyday Life with Monster Girls, Scum's Wish)
Genre(s): Comedy, Romance, School
Synopsis:
Koudo Ikusei Senior High School is a leading prestigious school with state-of-the-art facilities where nearly 100% of students go on to university or find employment. The students there have the freedom to wear any hairstyle and bring any personal effects they desire. Koudo Ikusei is a paradise-like school, but the truth is that only the most superior of students receive favorable treatment.

Ayanokouji Kiyotaka is a student of D-class, which is where the school dumps its "inferior" students in order to ridicule them. For a certain reason, Kiyotaka was careless on his entrance examination, and was put in D-class. After meeting Horikita Suzune and Kushida Kikyou, two other students in his class, Kiyotaka's situation begins to change.
Thoughts:
Jesus Christ, this school sounds insane.
I'll admit that it sounds like an interesting concept. A school with a class with lower-class students, and one student apparently meets fellow classmates to create some sort of relationship. I'm wondering what happens after they start to bond with each other. Do they rebel against the school? Do they just hang out and have a good time? I don't know but hopefully it's interesting.
After watching the preview, I didn't understand a thing to help me with the storyline but the music sounds good. The art looks nice as well.
---
Aho Girl
Studio(s): Diomedea (Kantai Collection, Problem children are coming from another world, aren't they?)
Genre(s): Comedy, Romance, School
Synopsis:
This 4-koma style manga features Yoshiko, a genuinely stupid girl (she can even manage to get all 0's on multiple choice tests). She hangs out at school with her childhood friend, who she claims to like, and he has to put up with all her ridiculous behavior!
Thoughts:
This show sounds like it's going to be the goofy school-based show of the season. A person who can get all zeros on every test she takes, I mean how does that not sound dumb and funny at the same time.
It could be on the same level as Gekkan Shoujo Nozaki-kun or even Nichijou but we'll see.
Everything about the preview doesn't look half bad, so I'm looking forward for my fill of dumb humor.
---
THE REFLECTION
Studio(s): Studio Deen (Fate/stay Night, KonoSuba, Fruits Basket)
Genre(s): Action, Super Power
Synopsis:
After THE REFLECTION, some of the people in all parts of the world are discovered with super powers.
Some become heroes, and others villains.
How did the Reflection happen? What was the cause of it?
With many unsolved mysteries, the world is lead into turmoil.
Thoughts:
Let me tell you something special about this anime:
STAN LEE IS INVOLVED.
You heard me right. Stan Lee, the father of legendary Marvel comic book superheros such as Spider-Man, The Incredible Hulk, Thor, the X-Men, is apart of this anime.
This original project created by Stan Lee and Hiroshi Nagahama (Mushi-shi) will be made into an anime, thanks to Stan Lee's POW! Entertainment and animation company Studio Deen.
This looks so cool. It has a comic book art style and feel to it, and while it might not be what the actual animation and art will be, the preview was still pretty cool to look at.
And let's appreciate the collaboration between Japanese and western creative minds coming together. It's a shame that there are barely any of these kinds of shows or movies so this will be nice to experience.
---
Possible Shows
This section is going to be one where I'll briefly talk about other shows that I might watch but I also might not even touch them:
---
Thanks for reading my really long list, and hopefully this might've helped you pick out your list of anime to watch next season. I am still fairly new to the seasonal anime, and it seems that summer will be loaded with interesting anime.
Hopefully I'll be able to balance the season with next month's 30 Day Challenge… let's hope.
-al