Hello and welcome back to Currently Watching: Summer 2017 Edition! This is the segment I do every anime season where I talk about different shows that are airing right now and give you my, hopefully, interesting thoughts on them!
This show is something I actually never really seen the concept or idea before, so let's begin!
---
I actually saw the first episode on the popular streaming site, Twitch.tv, thanks to some anime streaming service that was allowed to show it before it releases officially or something. The show premiered even earlier, on July 2nd, exclusively at Anime Expo 2017 in Los Angeles, California, and I'm pretty sure people can watch it now.
Today's anime is Ballroom e Youkoso (2017) [transl: Welcome to the Ballroom], a sports-based romance comedy drama adapted from a manga by Tomo Takeuchi, and animated by Production I.G. (Psycho-Pass, Haikyuu!, Kimi ni Todoke).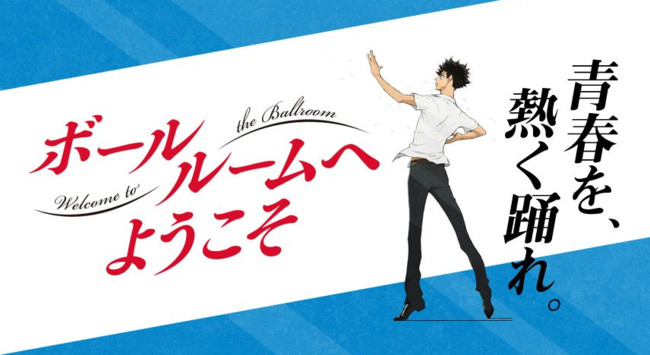 Like I mentioned in my list of shows I'll be watching this season, I looked at this show and said to myself, "ballroom dancing, that doesn't really sound appealing to me", but when I watched the preview and now, the actual show, it actually interested me a lot.
This time, I'm just going to just steal the synopsis from MyAnimeList:
A professional dancer named Sengoku rescues Tatara, an introverted third-year middle school student who is being harassed by delinquents. Tatara ends up at Sengoku's dance studio where he meets Shizuku Hanaoka, a schoolmate he comes to secretly idolize. From this defining moment when Tatara enters the world of dance. Sengoku is a free-spirited, dynamic international dancer who recognizes Tatara's potential and begins to coach him. Through dance, Tatara meets another schoolmate, a dance prodigy named Kiyoharu. Through these new friendships, Tatara develops a passionate desire to improve as a dancer and be accepted by his peers and rivals, which nurtures his own native talent. And through interaction with Tatara, other dance members are encouraged to take steps to overcome their own challenges and issues.
So, yeah, this anime is about a normal guy becoming very interested in ballroom dancing and trying to find something to do with his life since he lives a boring life and wants to find something to do.
Honestly, I like it. I personally haven't really seen something like this, there are popular shows that are similar to this such as Yuri on Ice, so this will be something unique to experience. The story so far, I feel like it's progressing a little too quickly, but the little comedic jokes and the actual dancing they show make up for that.
On the topic of dancing, I did not expect this show to actually describe and show us the steps in different dance moves. Surprisingly, they go pretty in-depth on how to do a specific dance such as "The Box" and I'm not saying it's a bad thing, I actually find it cool that they included it because it adds a more realistic tone to this show and someone is actually teaching us real dances.
The characters in this show are nice to see. They have their different personalities such as Takara being a quiet, shy kind of guy while we see Sengoku, the pro dancer, have an amazing aura to him when he's dancing or not. Everyone so far was enjoyable to watch, but I think I'll give it a few more episodes to fully appreciate the different characters.
The art and animation, oh my goodness, it is fine as hell. Animation is really smooth, and when a show about dancing comes up, where there is a lot of movement, it is absolutely important that the way they move is smooth. I've seen dance-based shows that have seriously, horrible animations such as Love Live! (I'll even admit that they barely improved it in Sunshine!!), but this show got it right.
The art, especially the character design, it's different, but I like it. Everything about the artwork, the background, the lighting, everything looks beautiful and crisp.
I won't touch on the voice acting that much, it was nice. But, the music in this show is really good. The opening, "10% roll, 10% romance" by UNISON SQUARE GARDEN, this has to be my favorite opening so far of the season. I wish I could include a video of the song, but it's nowhere to be found except for in the previews:
If you want another taste of UNISON SQUARE GARDEN, here's the ending they created that made me want to watch this particular show, Kekkai Sensen.
In conclusion, this show is actually pretty damn good so far and I was definitely judging it too hard for it's concept of ballroom dancing. It's interesting to see a new kind of show that I've never experienced, I mean ballroom dancing isn't a very popular in general, so I'm excited to follow this show this season.
MyAnimeList Page: https://myanimelist.net/anime/34636/Ballroom_e_Youkoso
Thanks for reading!!! 😀
I don't know what show I'll be reviewing tomorrow, I might not even review one at all. If that's the case, I'll do a fun post about some topic related to anime.
-al