Let's continue the heart-warming slice-of-life anime reviews, shall we?
I actually reviewed this back in January but now that I read it again, I didn't like the way I wrote the review, so here's a better version!
---
Today's anime is Amaama to Inazuma (2016), or in English, Sweetness and Lightning, a seinen slice-of-life comedy originally a manga written and illustrated by Gido Amagakure and adapted by TMS Entertainment (D.Gray-man, ReLIFE, Kamisama Hajimemashita).
Story
Kouhei Inuzuka is a single parent after his wife passed away, and has been taking care of his daughter, Tsumugi, while balancing a job as well.
When it comes to making Tsumugi's school lunch, Kouhei resorts to convenience store, ready-to-eat meals, mainly because he's so busy that he can't find time to actually cook homemade food for him and his daughter.
One day, he then meets one of his students, Kotori Iida, and she invites them to her family's restaurant to eat sometime.
However, on their first visit there, they find that the restaurant is usually empty, Kotori's mother is too busy to run the restaurant and Kotori doesn't even know how to cook anything. Kotori then becomes embarrassed about them seeing all this, but she begs Kouhei and Tsumugi to come by often in order to cook food for Tsumugi to enjoy and also be a learning experience for both Kotori and Kouhei.
"Amaama to Inazuma follows the heartwarming story of a caring father trying his hardest to make his adorable little daughter happy, while exploring the meanings and values behind cooking, family, and the warm meals at home that are often taken for granted." (MAL)
The story is pretty simple. A man is left to take care of his child by himself after his wife unfortunately passed away, and decides to become a better parent by learning how to cook better food for his daughter while seeing the meaning of food and how it helps the family and friends come together. It's a nice little backstory to watch throughout.
As for the cooking aspect of this show, they did a great job being accurate on the recipes and what to do. Being someone who doesn't cook and relies on my mother's amazing cooking, it was pretty interesting to see the process of creating different dishes like doughnuts and curry. In the manga, they give you a full, written recipe for you to try yourself.
Other than that, we just see the daily lives of Tsumugi, Kouhei and Kotori, especially the father-daughter duo. Like I said in my last review on Usagi Drop, it's interesting to see how a single parent tries their best to keep their child and themselves happy, while balancing other things like their job.
Characters
Kouhei is a caring parent. He absolutely loves his daughter and we can see that he wants to always make her happy. So, as a character, cooking helped develop his parenting much better, as he can now do something that his wife would've done, which is cooking, if she hadn't passed away. Cooking also acted as something to increase his relationship with Tsumugi.
As for Tsumugi, she is probably the reason why a lot of people like this show and want to see more of it. She's cute, funny and entertaining.
The other characters such as Kotori, Yagi (Kouhei's longtime friend) and Shinobu (Kotori's best friend), they all contribute to the story in some way. Kotori, especially, she also develops into someone who loves food and takes cooking for granted, but now wants to learn how to make nice dishes for herself.
Art + Animation
It's good. Honestly, I don't have much to say, it's pretty generic. The character designs are a little bit different from usual, but it's your average slice-of-life. Animations are smooth too.
Oh, almost forgot. The visuals of the food, while they aren't as detailed as the dishes in Shokugeki no Souma, they look preeeety appetizing and can make you hungry.
Sound
Oh man, what a cast we got here. Yuichi Nakamura (Tomoya Okazaki from Clannad) as Kouhei, Saori Hayami (Shouko Nishimiya from Koe no Katachi) as Kotori and Rina Endou (Hina Kubota from Barakamon) as Tsumugi, this is a great trio of seiyuu and they did a great job.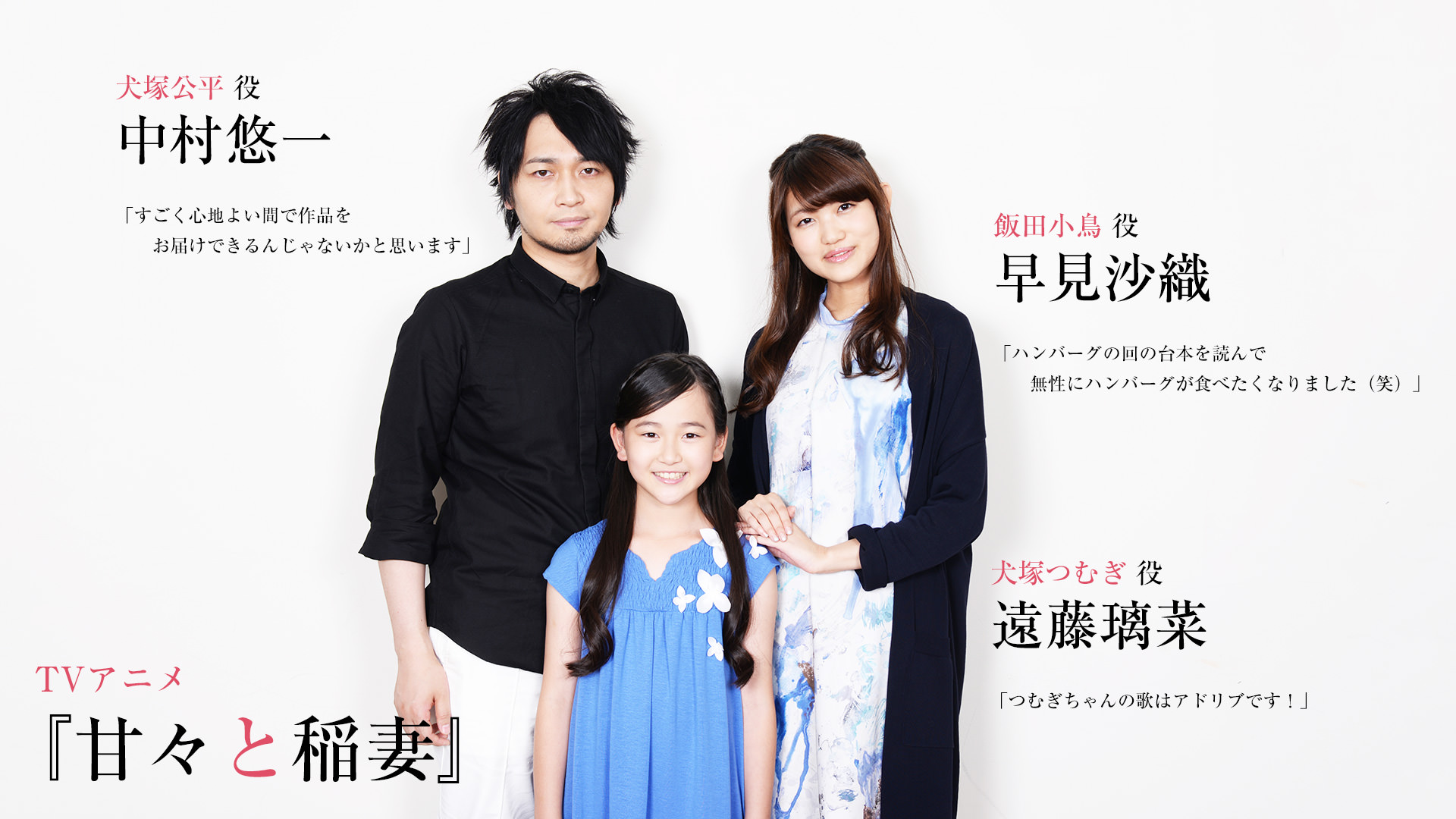 With the music, all I can really remember was Tsumugi's little songs that she sang throughout the show. They were all cute and fun.
The opening, "Harebare Fanfare" by MimimemeMIMI, is also fun, upbeat and cute. Very nice.
In conclusion, if you like food, great parenting, heart-warming family bonding, cute characters and simple daily life kind of anime, you should definitely check this one out.
MyAnimeList Page: https://myanimelist.net/anime/32828/Amaama_to_Inazuma
Thanks for reading, and here's my favorite song from Tsumugi 😀
-al