Let me just say that this show is much better than Shiba Inuko-san.
Aiura (2013) is a short slice of life comedy, originally a 4-koma manga written and illustrated by Chama and adapted by LIDENFILMS (Akashic Records of Bastard Magic Instructor, Arslan Senki, Koi to Uso).
Story
We're shown the daily lives of three friends, them spending time together in their high school lives and listening to their pointless conversations. That's it.
While that may seem boring, the way I summed it up, it was actually decently enjoyable. The amusing and pointless conversations they have with each other and the personalities of the three girls were entertaining enough to make me laugh sometimes.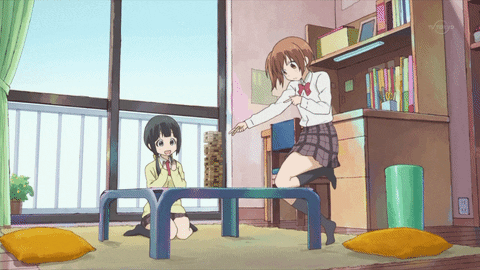 Characters
I will say, this trio of ladies is a nice one and they all have their unique aspects of themselves to balance each other out.
From left to right:
Kanaka Amaya – the more silly and talkative one of the group, likes to play pranks on the other girls and like the page on MyAnimeList says, she's the mood maker. A good comparison would be Ritsu Tainaka from K-On!
Ayuko Uehara (also known as Ayukong, Yukon) – you wouldn't know it at first, but even though she's short and looks like an elementary school student, she's actually in high school. She's a nice and calm kind of character.
Saki Iwasawa – the tallest one of the group and the least motivated. She has to deal with Kanaka's goofs and pranks every single day
Other than the trio at hand, the other characters also were fun to watch such as their irresponsible teacher, Sumiko Yamashita, who absolutely does not give a damn about her students and can't even remember Kanaka's name.
Art + Animation
It's nice to look at and the characters look great.
Sound
One of the only times I remembered the background music, and it was good!
Other than that, the opening is nice and the visual part is extremely random. It features a bunch of crabs and even former Apple CEO Steve Jobs, which both are never mentioned in the actual show. So random, it's kind of funny.
Conclusion
If you got an hour to spare and you want to watch an entertaining trio of people have fun, you might want to check this one out. I had fun with it and even though it's short, it wasn't a bad anime to experience. I'm actually surprised this has a fairly low score on MyAnimeList, I believe it can be a little bit higher than 6.81.
MyAnimeList Page: https://myanimelist.net/anime/17082/Aiura
Thanks for reading!! 😀
-al