If you're curious about how to be popular with boys or girls and maybe even start a romantic relationship with them, you've come to the right place!
Love Lab (2013) is a romance comedy originally a manga written and illustrated by Ruri Miyahara and adapted by Doga Kobo (Gekkan Shoujo Nozaki-kun, Himouto Umaru-chan, Plastic Memories).
Story
Taking the synopsis from MyAnimeList:
Natsuo Maki is the most mature of all the dignified young ladies at Fujisaki Girls Academy. As the student president, Maki is revered by all the other young girls for her grace and poise. What happens behind closed doors, though, is an entirely different story. One day, Natsuo decides to practice her kissing technique on a pillow, a move which makes her look neither graceful nor elegant. Unluckily, fellow student "Wild Kid" Riko Kurahashi walks in on her.

Luckily, instead of making fun of her, Riko chooses to help her. The two begin a project called the Love Lab, intended to practice the essentials of love and romance. Bumping into each other "accidentally," holding hands, and more "love techniques."

Soon the rest of the student council is pulled into the girls' Love Lab, and then the rest of the school. Suddenly the student council's job has expanded to include answering anonymous questions about romance. And it becomes quite clear that many girls at the academy long for a bit of romance in their lives!
I am actually genuinely surprised this is one of the most unpopular romance comedies out there.
To sum it up, this is a story about a group of girls learning how to be popular with guys. The story mostly focuses on the techniques and ways to meet other people to possibly start something romantic with them while expressing them in a very silly and funny way, thanks to how the characters act. Seriously, taking a simple concept such as holding hands, Maki can make us laugh doing so.
However, when an important conflict/dramatic subplot comes up that might ruin their "Love Lab" project (and it comes up quite a bit), the tone gets a little serious but it still stays funny. I think that's one of the reasons why I and many other people really like this show.
Other than that, it's pretty interesting to see a group really take how to be popular with boys seriously, I don't think I've seen an anime that revolved around that idea that much.
Characters
Probably one of, if not THE reason why I love this show. All the characters in this show, their personalities and how they act around each other is just really entertaining to watch.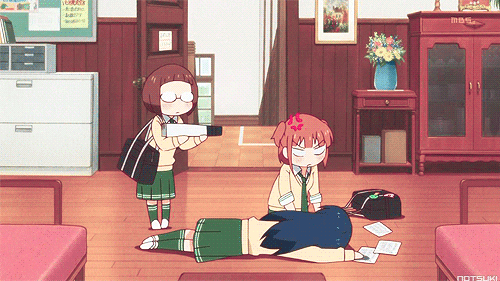 Natsuo Maki, the beautiful and most praised girl at Fujisaki is much different when in private; Riko Kurahashi, basically the polar opposite of Natsuo, she's looked upon as really cool; Suzune Tanahashi, a very timid girl who is also pretty interested in dating guys; Yuiko Enomoto, the more childish tsundere; and finally Sayori Mizushima, the money loving smart aleck of the group. Everyone is interesting and funny in their own way, so you won't get bored watching these five girls have fun.
There are other characters that come in later such as actual boys (what? no way! in a show where all the main cast is female?!?!), and they have the same comedic personalities like the main cast.
Art + Animation
Pretty generic. It's nothing special but the silly animations that the characters do is a nice touch.
Sound/Music
The seiyuu that did everyone's voice, everyone really depicted their character with their individual personalities well.
I think the stars of the music aspect were definitely the opening and ending. I really love both of them and they are pretty darn catchy!
I think the ending is my favorite, it's just so happy and heartwarming to hear.
Conclusion
I really do think that this is one of the more underrated romance comedies. It's genuinely funny, the characters are very lovable and the story is pretty good! I love silly comedy and paired up with a romance aspect, how could I not like this show. You should definitely check this one out if you like romcoms!
MyAnimeList Page: https://myanimelist.net/anime/16353/Love_Lab
---
Thanks for reading!!! 😀
-al