You know, most of the slice-of-life anime we see is fun, goofy and it's supposed to put a smile on your face throughout the whole show. K-On!, Lucky Star, Nichijou, so many choices to just laugh and smile at.
However, in my eyes, we don't really see the more realistic and dramatic kinds of anime in this genre. After looking at the top shows in the SoL category on MyAnimeList, I can only really see shows like Clannad, AnoHana and a few other shows that I haven't personally seen yet. Honestly, I would definitely like to see more slice-of-life anime with drama and realism, it really interests me and I bet a lot of other people would like it too.
Here is another addition to that side of slice-of-life.
Alongside Your Name and Koe no Katachi, this was one of the hit anime films, and Japanese movies in general, in 2016 and I truly believe the praise and high rating are correct.
In this Corner of the World (2016) is a historical drama film originally a manga written and illustrated by Fumiyo Kouno. The movie was directed by Sunao Katabuchi (Black Lagoon, Hana wa Saku, Meiken Lassie) and also produced by studio MAPPA (Zankyou no Terror, Yuri!!! on ICE, Sakamichi no Apollon).
Story
This movie takes place during World War II and in a small town in Hiroshima, Japan called Kure. We follow a lady named Suzu Urano, just a person who lives life to the fullest even though she has some obstacles in front of her such as her family being poor. Now that she's eighteen years of age, she marries a clerk who works at the naval base, Shuusaku Houjou and takes over the housework, cooking, cleaning of the Houjou family estate.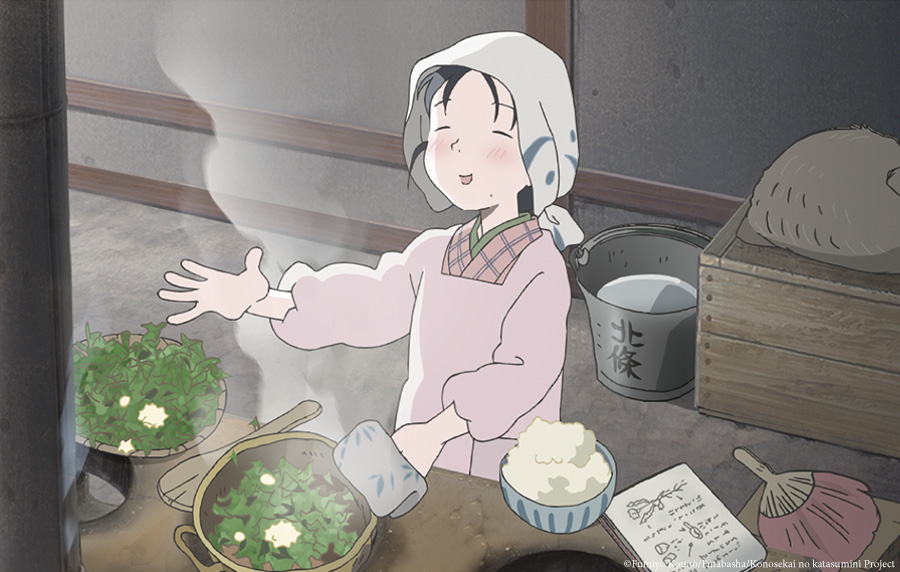 Fast forward to 1945, the war becomes more and more intense in their area. Dropped bombs from the U.S. military increase, life gets harder and harder everyday and eventually tragedy, suffering and more obstacles get in not only the townspeople's lives but especially Suzu and it changes her drastically as a person.
This film is essentially the story of Suzu, her perseverance and courage and living her life to the fullest even though unfortunate events happen.
Being someone who does not have a ton of knowledge about World War II and the lifestyles of people who are in these areas where war, violence, gunshots, bombs were taking place, this movie absolutely was informative and gave us a realistic tone and atmosphere on how life was in Hiroshima. War, especially this incident in Hiroshima and Nagasaki, is definitely a sensitive topic to many people and I believe the director, Sunao Katabuchi and MAPPA really expressed this intense and drama-filled event in history very, very well.
Seeing it in an individual's point of view who unfortunately had her life turned upside down, the story of Suzu and everyone around her kept me watching and interested, even though I thought it was a bit slow.
Seeing the aspects of love, family, hardships, courage, perseverance and life all impressively mixed in this 2-hour long film, it was a very nice thing to experience and definitely a big refresher from all the other anime I've seen and talked about.
Characters
I seriously loved Suzu all throughout the movie. A lady who is a little timid, absent-minded, clumsy and also small in size, but also has many amazing traits like hard-working, relaxed, creative, happy to live life, Suzu was a great character to see in this film. Her character development was there, but I felt drastic change was expressed fully towards the end of the film, which wasn't bad at all.
Other characters also had a fairly big impact on Suzu and the story such as her husband, Shuusaku, falling deeply in love with him; Keiko Kuromura, Shuusaku's harsh sister, and her daughter, Harumi; and also Suzu's long-time friend, Tetsu Mizuhara. The relationships Suzu had with everyone was very nice to see and pretty much most of the characters had a significant part in this story.
Art + Animation
Definitely different from usual anime we see nowadays, but this film's artstyle is unique in a great way, realistic, abstract and it has a more watercolor and dreamy feel to it. I'm no expert in art, but the style has a vibe of traditional Japanese artwork.
Sound
The voice acting was overall good, but something about Suzu's voice made me a little iffy. I don't know, the tone of Suzu's voice kind of didn't go with her personality a little, but it's something minor for me.
The music was superb. I loved most of the background music, it was very relaxing, calming and I might be wrong, it's very traditional. It really just speaks for itself, so here is one of the songs featured in the film:
I wish there was a video with the OST and the opening and ending themes, but it seems like there isn't any available as of yet.
Conclusion
In This Corner of the World gives us a very realistic and heartfelt story about life during World War II and shows how much war can affect a person, not only physically but mentally. On the topic of suggesting to watch this film, it really does depend. If you like more historical, slow, realistic stories with a big dramatic aspect to it, definitely watch this. If not, you might not enjoy it as much. I, personally, really liked this film for the unique story, realistic setting and enjoyable characters. I also plan to get the Blu-ray because I believe it's a film worth getting the physical version.
If I were to rank it on the anime films I've seen recently, it's better than Koe no Katachi, but not by a landslide and Kimi no Na wa is far greater in most of categories than this film. That's just my opinion.
In this Corner of the World comes out on DVD and Blu-Ray on September 15, 2017, which both include English subtitles. If you wanted to know how to watch it. 🙂
MyAnimeList Page: https://myanimelist.net/anime/15227/Kono_Sekai_no_Katasumi_ni
Thanks for reading!! 😀
-al